*********** Important Announcement ***********
Hello CXC RACERS!

Due to unforseen circumstances we will be Postponing our race this weekend at Russell Creek to next weekend June 2nd. Much of our racing equipment was stolen early Tuesday morning. A skid steer, 2 quads, a mule, 2 generators and parts of our scoring system and many other essential items. Many thanks to the Grundy county Sheriff's department for recovering some of these items and hopefully more . It is going to take us a few days to piece everything back together and purchase a few new things. But...we will be ready to go next weekend June 2nd.

We are so sorry for any inconvenience this may cause, and thanks so much to everyone for the kind words and offers of help. A few worthless thieves are Not going to keep us down for long.

We sure hope to see everyone next weekend June 2nd at Russell Creek.
---




Round 2 - 2019 CXCR Series
June 2nd 2019
Russell Creek Greensburg, KY


Physical address is :
655 C Garrison Road
Greensburg, Ky.


---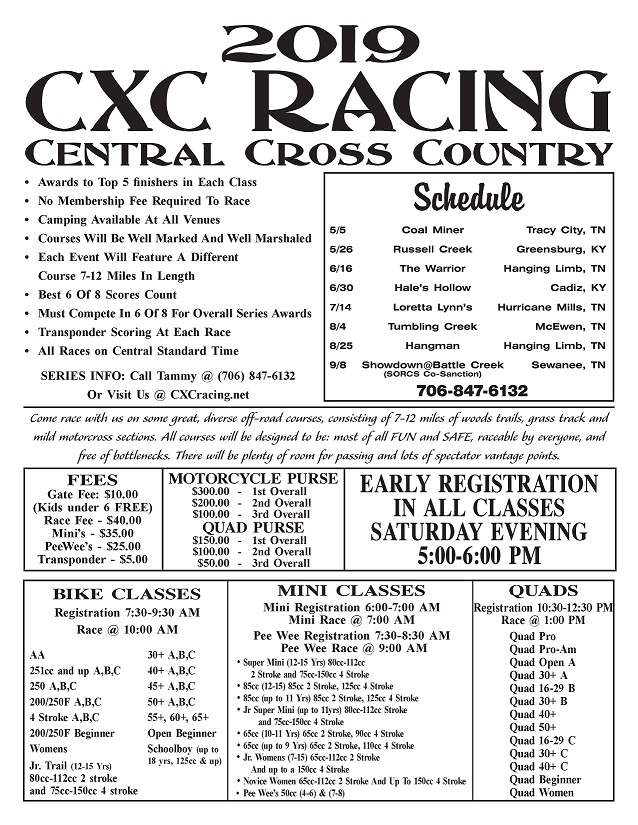 Click here for CXCR Flyer
---
Counter 10297